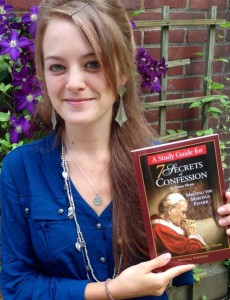 Mary Flynn is the youngest of the Flynn children and is a graduate of Franciscan University of Steubenville, where she studied Spanish, Catechetics, and Theology. A talented writer and musician, she has long been involved in music and youth ministry and is currently a full-time member of the MercySong office and production team.
During college she continued the forms of ministry she'd already been a part of with MercySong, becoming actively involved in women's ministry, retreats, and prayer ministry. She was also a worship leader, a member of the music ministry core team, and a vocalist for the Festival of Praise music team.  After graduating she worked in marketing & customer service management for a gourmet wine cellar before coming on staff full-time here at MercySong. She is also an avid dancer, and has spent the last couple of years developing and teaching a beginner's ballroom dance program.
Mary has a gift for organization and loves to help people understand Theological teachings. These made her the perfect author for what became her first book, A Study Guide for 7 Secrets of the Eucharist. Released in 2008, it was so well-received, that as soon as the 2nd book in the "7 Secrets" series was published (7 Secrets of Confession), Mary got to work on the Study Guide for that one as well. Both her books are now used in RCIA, Religious Ed. classes, and book clubs around the country. She just recently finished writing her third Study Guide (soon to be published), the companion to Vinny's newest release, 7 Secrets of Divine Mercy.
In 2015, Mary moved with her sister Erin to North Carolina, where they set up a MercySong office and are working on various outreach projects for that area.